A simple utility for Windows 8/8.1/10 that will help you customize the display of information in Explorer. You can completely return the previous view of the explorer as it was in Windows 7, or combine these or other panels in order to take the best of both operating systems. In the image above, we tried to clearly show what it is responsible for, and in the image below, you can compare Explorer before and after using the tool. This Tool does not require installation, does not make any changes to system files, and does not require money from you, i.e. completely free.

During the release of Windows 8, they changed the new look to the Ribbon Bar. The users of the previous operating system could not accept the change in appearance, and it was developed in a way that satisfied them. OldNewExplorer is a free application for PC developed by developer Tihiy. This OldNewExplorer allows users to change the appearance of the File Explorer application for Windows versions 10 and 8.1. It is intended for users of File Explorer applications in Windows 8.1 and 10, giving them the old Windows 7 File Explorer look.
Explaining the features of OldNewExplorer
Its UI is divided into three main sections namely Shell extension, Behavior, and Appearance in order to be easy to use.
Shell extension is about installing and uninstalling this tool.
Behavior sections lead to bringing up the drive group and libraries as they were in Windows 7
Options in the Appearance section allow you to turn the ribbon bar into a command bar, and enable the details pane, and the status bar.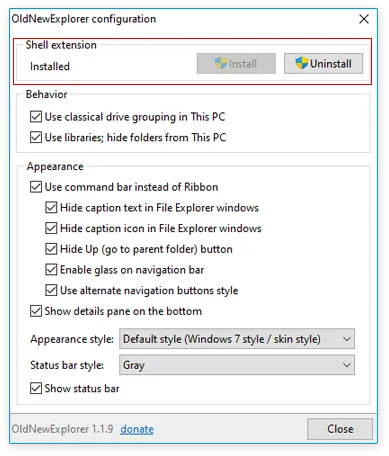 Shell extension
Place these files in the local disk-C or Documents folder before installing them because they cannot be changed after installing them, so changing them will require reinstallation.

Behavior
✔ Use classical drive grouping in This PC
✔ Use libraries; hide folders from This PC
Ticking both of these will hide the Folders group in your Explorer and bring up a Libraries section in the navigation pane.

Use command bar instead of Ribbon
Windows 8,8.1,10 will convert the ribbon bar in Explorer to a command bar like Windows 7. When using a custom theme it disables the ribbon bar and gives a clean look.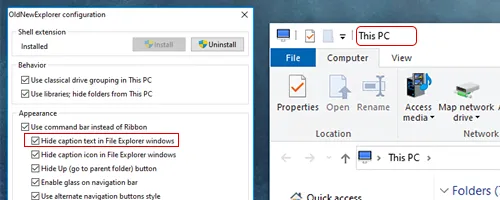 Hide caption text in File Explorer windows
This hides the location path text in the title bar, giving it a clean look. You can see them in the preview image.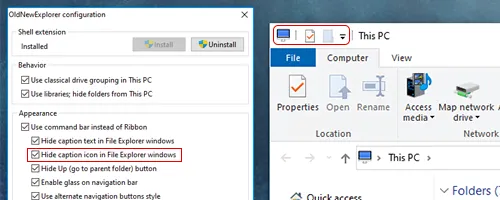 Hide caption icon in File Explorer windows
This hides the location path icon in the title bar, giving it a clean look. You can see them in the preview image..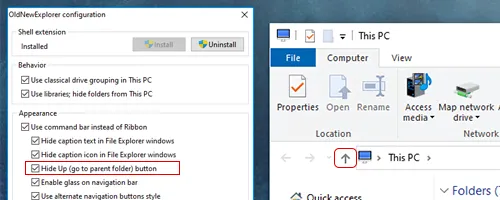 Hide Up (go to parent folder) button
As you can see in this picture, it hides the top arrow near the forward and back buttons, which I think is an underused feature.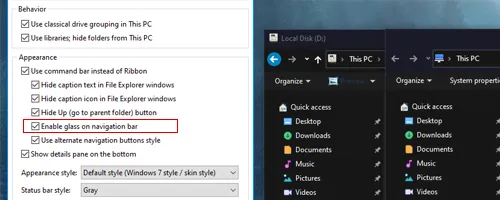 Enable Glass on Navigation Bar
This will give your title bar a full glass look when using a custom theme that supports the Aero Glass effect in windows explorer.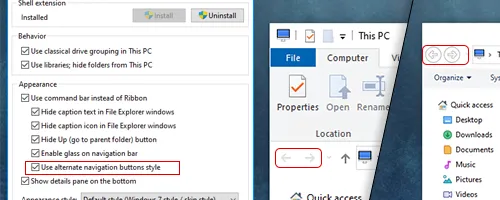 Use Alternative Navigation Buttons Style
This feature will give you circle forward and back button like in Windows 7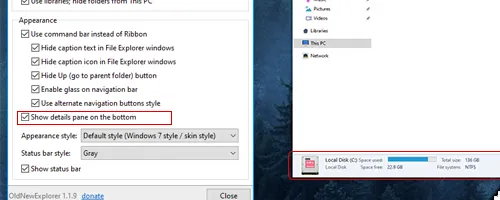 Show Details Pane on The Bottom
This details pane appears at the bottom of the Explorer. This feature makes it easy to preview a folder or files without opening them in Windows Explorer. You can view thumbnails of images, videos, audio files, and some text-based documents and see some of their properties like date, size, format, and dimensions.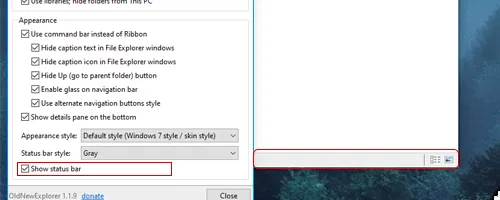 Show Status Bar
>This status bar appears at the bottom of the explorer. The total number of items on the page opened in the Explorer, and its size, etc. are displayed on the left side. On the right side, there is a facility to switch the thumbnail in two ways such as large icon only details
OldNewExplorer
Tihiy
330.71 KB
Windows 11/10/8/7/Vista/XP
1.1.9
Download
by
VINSTAR