Customize Your Windows Explorer with Stardock Curtains
Stardock Curtains empowers users to completely revamp the visual aesthetics of their Windows Explorer. The software offers a vast library of pre-built themes, ranging from sleek and modern designs to nostalgic and vintage styles. By applying these themes, users can instantly transform the look and feel of their operating system, injecting their own personality and preferences into every pixel.
Beyond the pre-built themes, Stardock Curtains enables users to create their own custom themes. With its user-friendly interface and intuitive tools, designing personalized themes becomes an enjoyable and seamless experience. Whether you're a design enthusiast or simply looking to match your explorer with your mood, you can experiment with different color schemes, window borders, taskbar styles, and other elements to create a theme that reflects your unique style.
Effortless Theme Application
Applying themes with Stardock Curtains is a breeze. With just a few clicks, you can switch between themes and instantly witness the transformation of your explorer. The software intelligently applies the selected theme to various graphical elements, including windows, buttons, taskbars, and more, ensuring a cohesive and visually pleasing experience across your entire operating system.
Fine-Tune Visual Elements
Stardock Curtains goes beyond surface-level customization by providing users with extensive options to fine-tune visual elements. You have the freedom to adjust transparency, modify textures, and refine details to achieve the precise look you desire. This level of customization allows for a truly tailored and immersive explorer experience.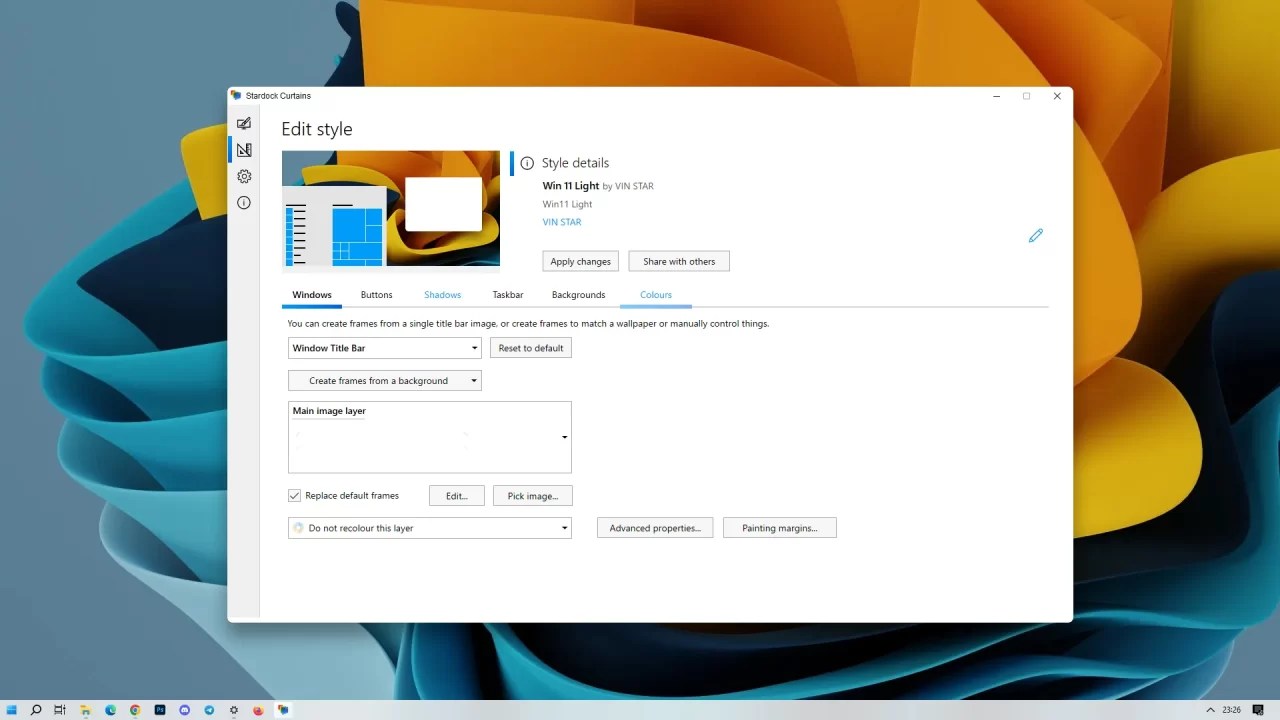 Stardock Curtains offers a range of customization options to help you personalize your Windows Explorer to your exact liking. Some of the key options available include:
Window Borders: Modify the appearance of window borders by changing their thickness, color, and style.
Taskbar Styles: Customize the taskbar with different styles, including transparent, gradient, or solid colors.
Button Designs: Choose from various button designs, including classic, modern, or entirely unique styles.
Color Schemes: Adjust the color scheme of your interface, allowing you to create a harmonious and visually appealing explorer.
Textures and Effects: Apply textures and visual effects to elements such as windows, taskbars, and buttons for added depth and visual interest.
Compatibility and Performance
Stardock Curtains seamlessly integrates with Windows 10, ensuring compatibility with the latest version of the operating system. The software is designed to operate efficiently, optimizing performance and minimizing resource usage. You can enjoy the visual enhancements provided by Stardock Curtains without compromising the speed or responsiveness of your system.
Download and Install Stardock Curtains
Stardock Curtains is a paid software, but you can enjoy a 30-day free trial by following these simple steps:
Visit the official Stardock website and download the Stardock Curtains software.
Proceed with the installation process, as usual, following the provided instructions.
During the installation, you will be prompted to enter your email address.
Enter your email address and submit it. Shortly after, you will receive an email with a request to activate Curtains.
Accept the activation request by following the instructions provided in the email.
If you have multiple email addresses, you can utilize a different one at the end of each trial period to continue enjoying the free trial.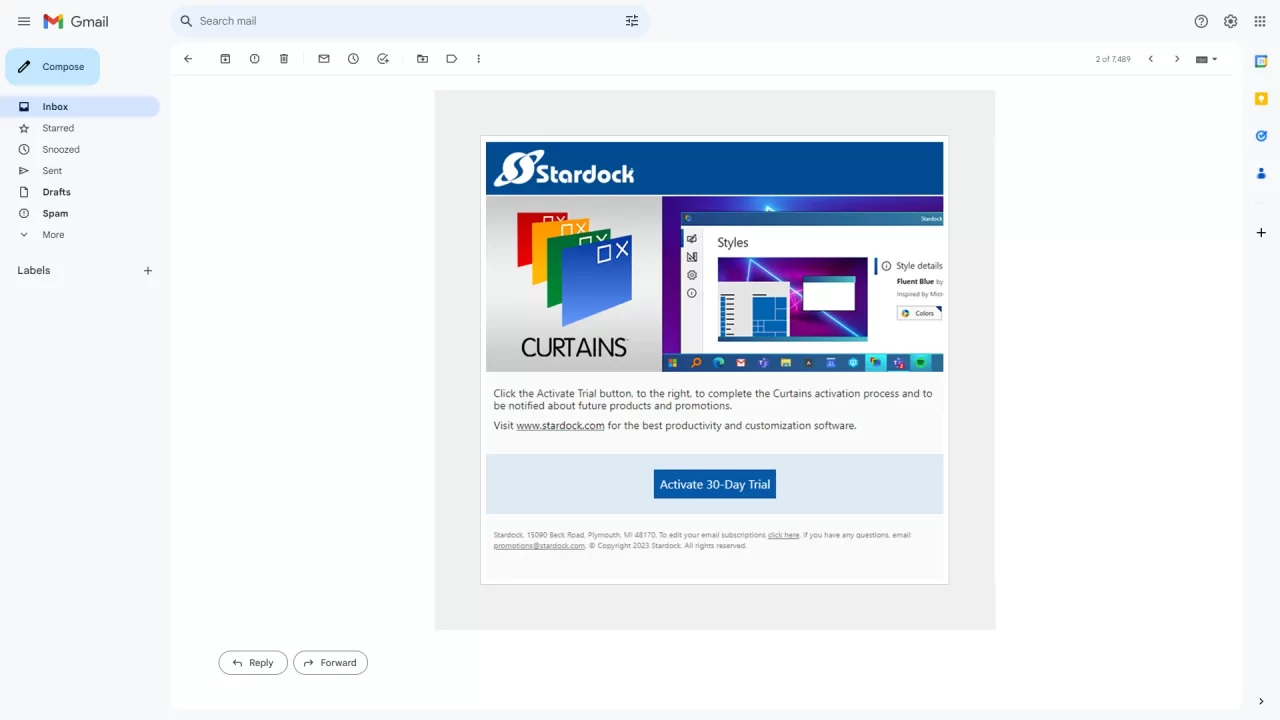 By taking advantage of the 30-day free trial, you can fully experience the features and benefits of Stardock Curtains without any cost. It allows you to explore the wide range of customization options and themes available, transforming your Windows Explorer into a personalized and visually appealing environment.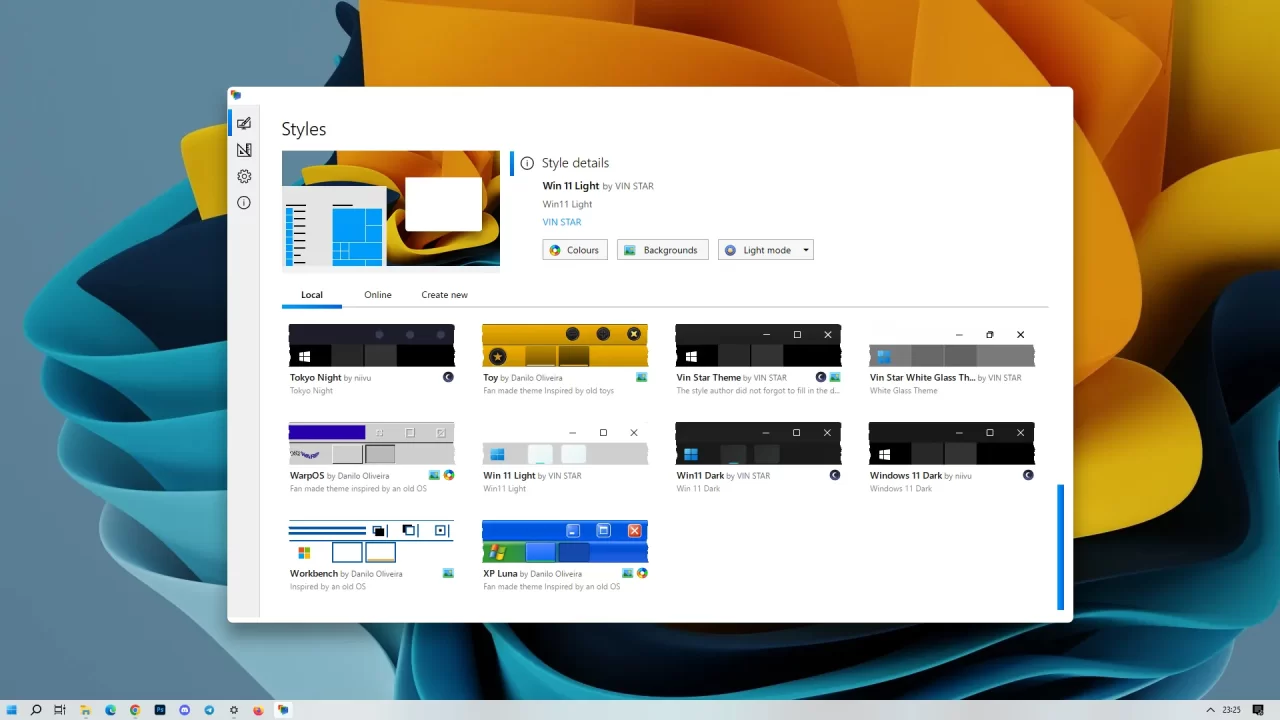 After installing Stardock Curtains, you will have access to a library of pre-built themes. Simply select the desired theme from the available options. Rest assured, all of the pre-built themes in Stardock Curtains are compatible with your Windows 10 operating system.
Customize the Curtains Theme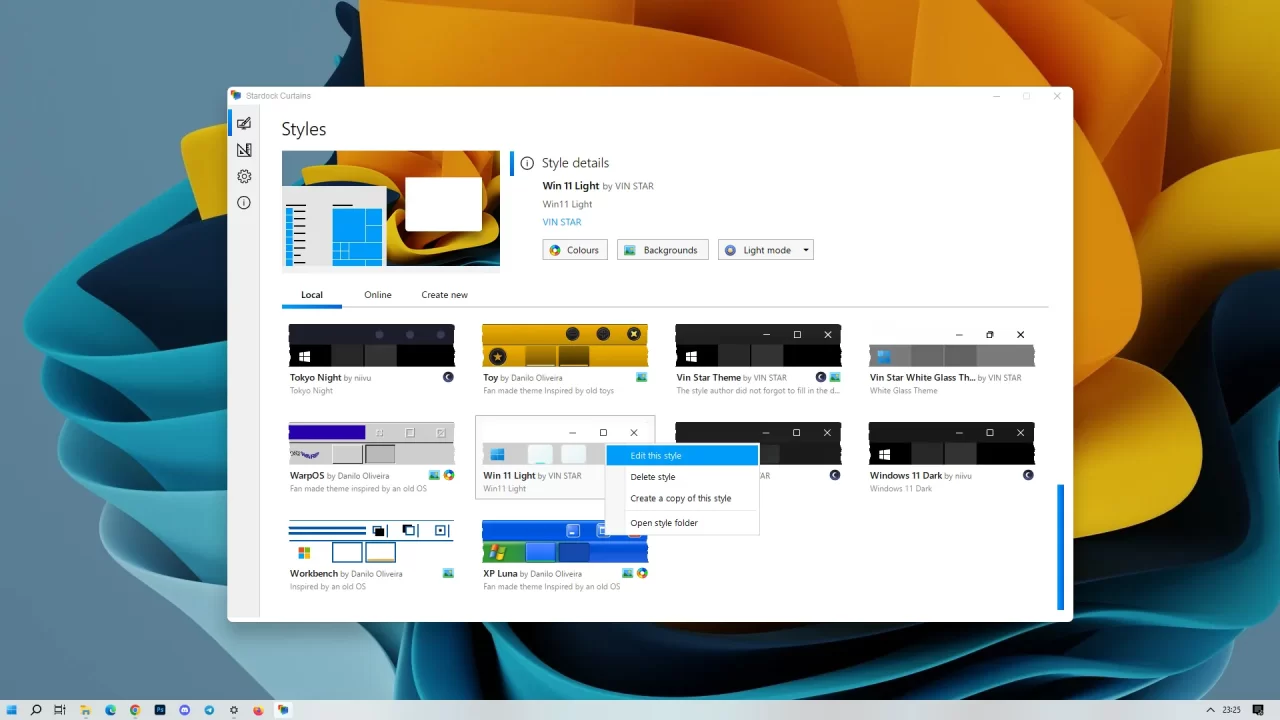 If you wish to further customize the theme, you can access the customization options provided by Stardock Curtains. Right-click on the desired Curtains theme within the interface and select "Edit this style". Experiment with different settings such as window borders, taskbar styles, button designs, color schemes, textures, and effects to personalize the theme to your liking.
Install additional Stardock Curtains Themes
If you want to install additional Curtains themes, follow these steps:
Download the Curtains theme file (usually in a .zip or .curtains format) from a trusted source or the official Stardock recommend WinCustomize website.
Some Windows 10 Custom Themes include curtains themes but you need to use a custom theme with them.
If you have downloaded the file in a zip format, extract it before proceeding.
Your Curtains theme will be in .curtains format, To import the theme into Curtains, simply double-click on the .curtains file.
Once imported, you can select it from the Themes list within Curtains to apply the desired theme.
The selected theme will change your Windows Explorer to show its appearance according to the imported theme.
That's it! You have successfully installed and used Curtains, as well as installed additional Curtains themes to customize your Windows Explorer. Enjoy the enhanced visual experience!
Stardock Curtains is a powerful software solution for Windows 10 users seeking to enhance their explorer customization. By leveraging its extensive library of pre-built themes and the ability to create custom designs, users can transform their operating systems into visually captivating environments. With its user-friendly interface, intuitive tools, and a wide range of customization options, Stardock Curtains empowers users to express their individuality and elevate their Windows Explorer experience. Whether you're a design enthusiast, a creative mind, or simply looking to add a personal touch to your explorer, Stardock Curtains is the go-to tool for taking your customization to the next level.